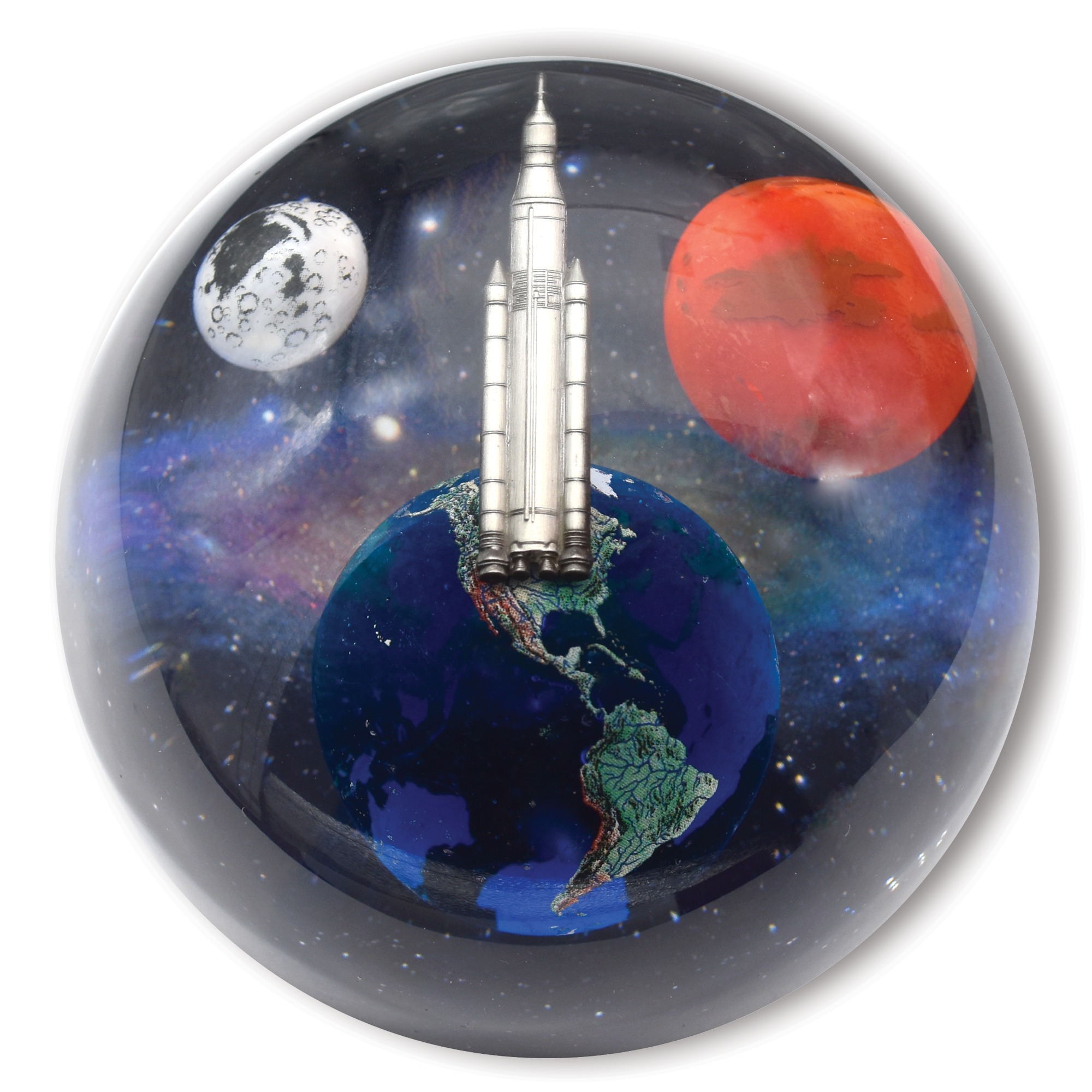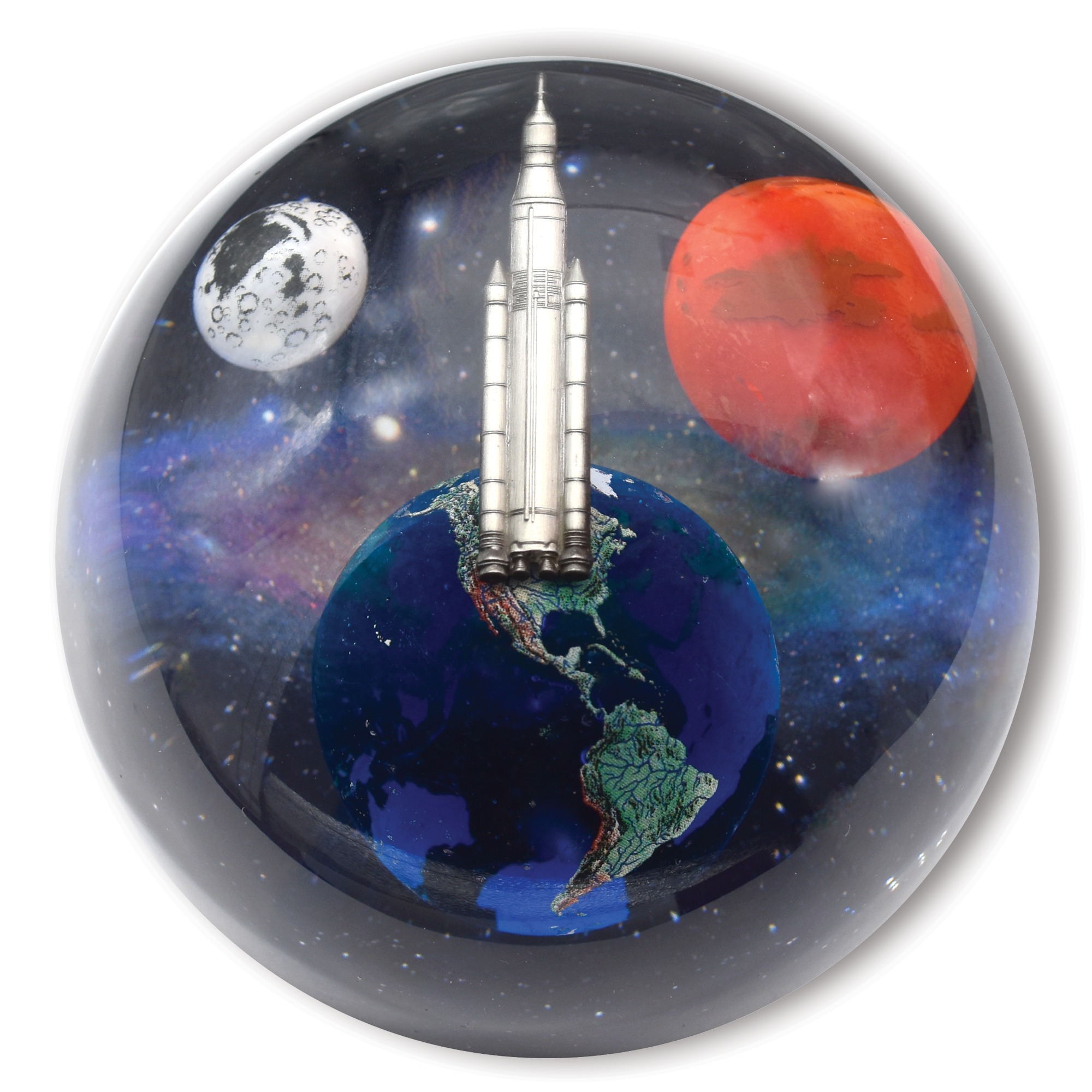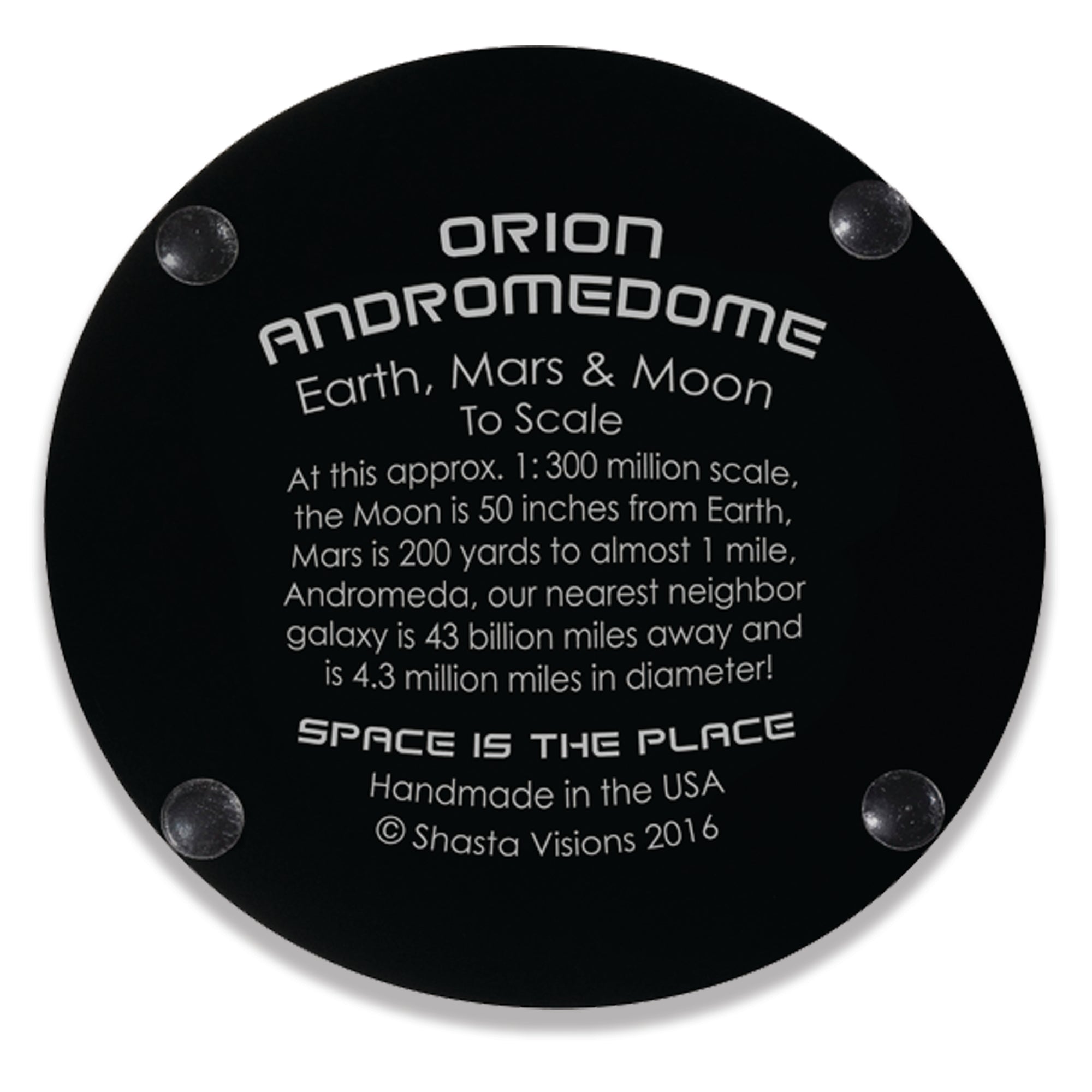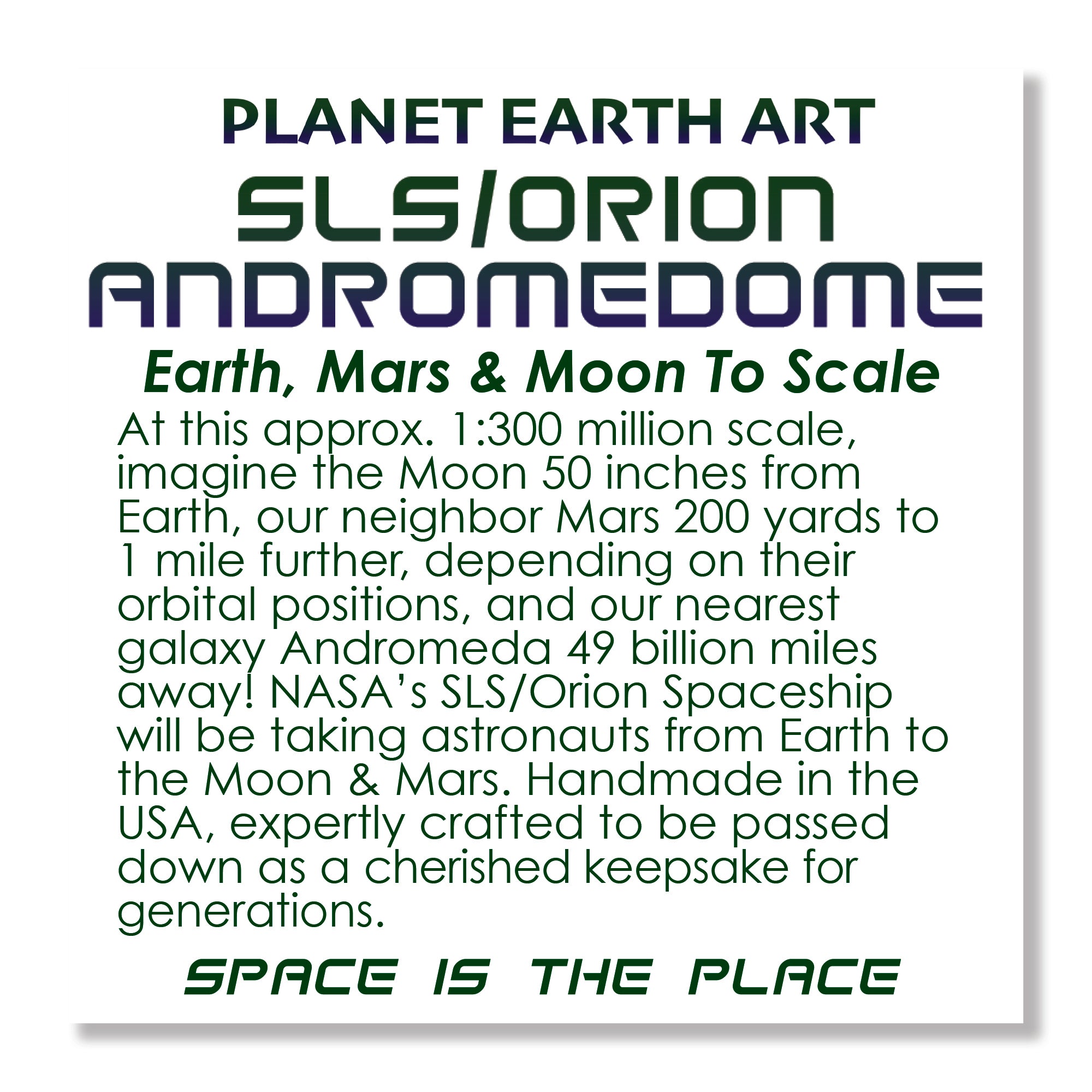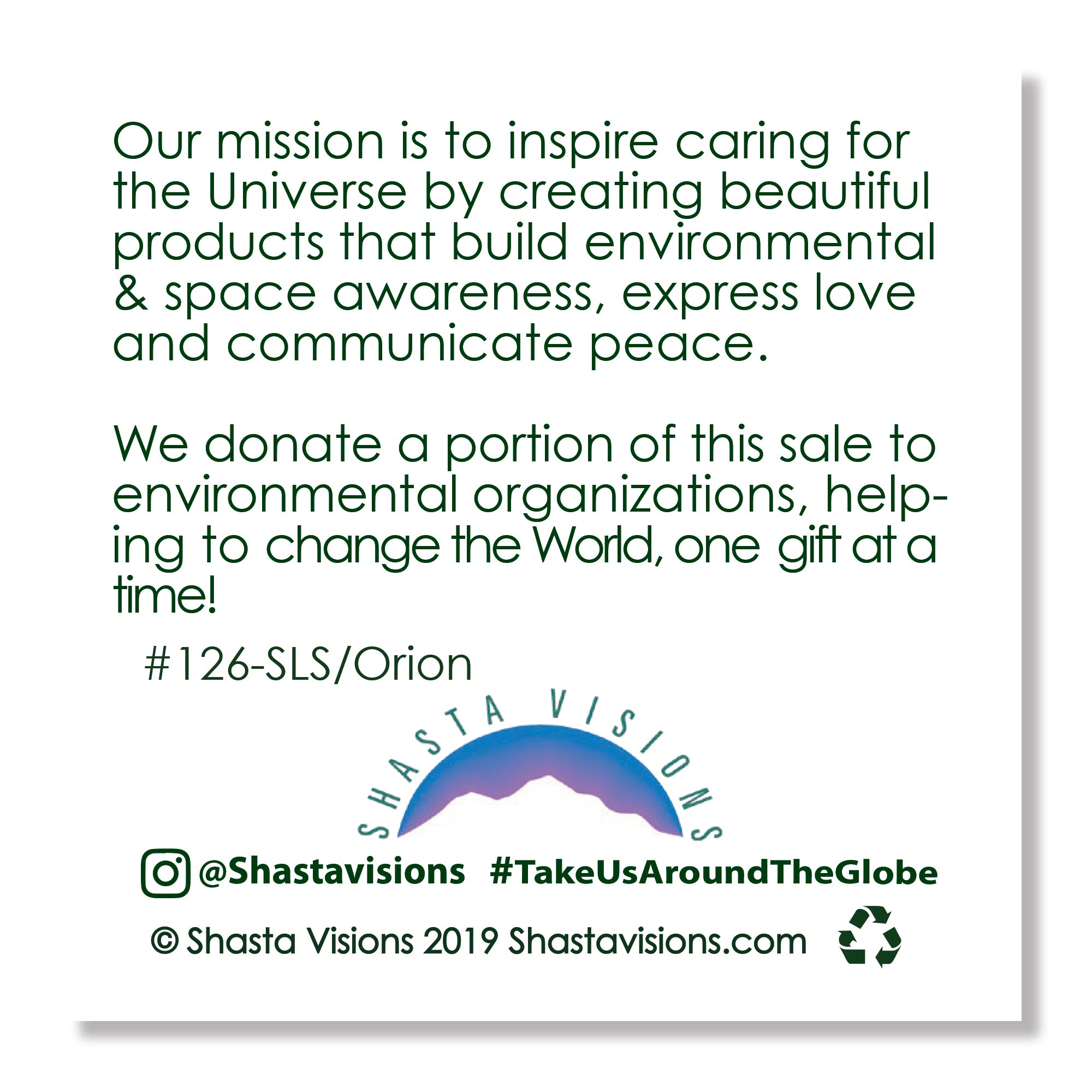 4" Dia. Earth, Mars & Moon To Scale, SLS/Orion Andromedome
$100.00
FREE shipping on all orders!
Click Images To Enlarge
About The Product:
An educational art piece that includes beautiful glass natural Earth, red Mars & iridescent Moon, as well as NASA's SLS/Orion rocket, shown taking astronauts to the Moon & Mars! This Andromedome contains the planets and rocket suspended above the spectacular Andromeda galaxy. This desktop sculpture is a full-color acrylic masterpiece. It arrives in a paperboard gift box. Clear rubber bumper feet are provided on the base to provide protection and stability for this cherished keepsake. Educational fun facts are laser engraved on the bottom and an educational story card is also included.
This is a conversation starter for any lovers of astronomy, astrology, and stargazing. Here is a mind-blowing perspective: At a 1:300 million scale, the moon would be 50 inches from the Earth, our neighbor Mars is 200 yards to one mile further out, and our nearest galaxy of Andromeda is 43 billion miles away and 4.3 million miles in diameter!
4" diameter Andromedome
Expertly crafted to educate and be passed down as a cherished keepsake for generations
Geographically accurate Earth, Mars, Moon and SLS/Orion rocket suspended above the beautiful full-color Andromeda, our nearest neighbor galaxy
The included SLS/Orion spaceship model represents the ship that will be

taking astronauts toward the Moon & Mars!

Educational info laser engraved on the back
Comes in a gift box
The geographic art on the Earth, Moon, & Mars are expertly kiln fired at over 1000 degrees, creating an acrylic masterpiece that will last a lifetime! 
A portion of the proceeds goes to support environmental organizations and inspire world peace.
This website is brand new! Please leave this product a review.